Plastics transformation - pull-up banners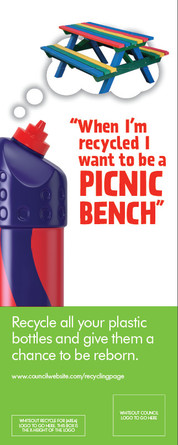 Download 'Plastics transformation - pull-up banners'
Select a file type to download.
By downloading resources you are agreeing to use them according to our terms and conditions.
Close
Save for later
Save files in your scrapbook to download or share later. What would you like to add?
Close
Information
Pull-up banners showing different plastic packaging (bottles, tubs and pots) transformed into picnic benches, drinks bottles, chairs and football shirts. Additional options to use for the football shirts will be available soon - if you have any questions please email partnerenquiries@wrap.org.uk.