Man and two women holding fruit and vegetable peelings at fresh produce market stall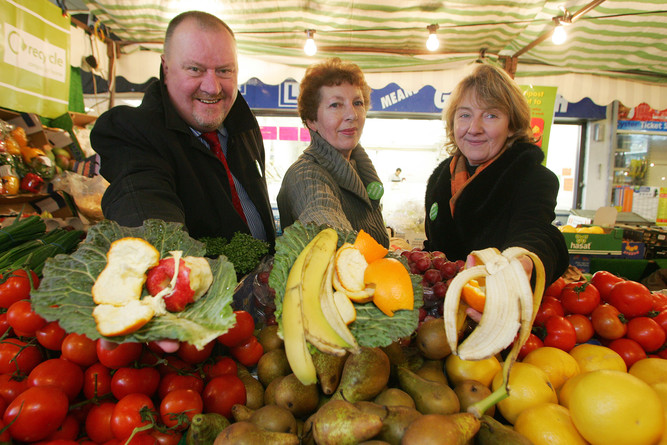 Download 'Man and two women holding fruit and vegetable peelings at fresh produce market stall'
Select a file type to download.
By downloading resources you are agreeing to use them according to our terms and conditions.
Close
Save for later
Save files in your scrapbook to download or share later. What would you like to add?
Close
Information
From left, Joe Harrison, President of the National Market Traders Federation, market trader Julie Lightly and Doreen McIntyre of Recycle Now at Queen's Market in Newham, east London for the launch of "Ask Me About Composting", a partnership between Recycle Now and the National Market Traders' Federation to drive and encourage more people to compost at home. PRESS ASSOCIATION Photo. Picture date: Thursday February 25, 2010. As a nation, we throw away 1.7 million tones of fruit and vegetable scraps each year, all of which could have been composted as many of us are unaware that when sent to landfill, this waste produces methane, a powerful global warming gas, the same waste composted at home produces no methane and provides free fertiliser and soil improver that helps vegetables, shrubs and flowers to grow. Photo credit should read: Geoff Caddick/PA Wire. There are print and web quality versions of this photo available to download. For certain photos, there will also be several different shots to choose from including portrait and landscape options.