A4 Poster - Textiles & Clothing heart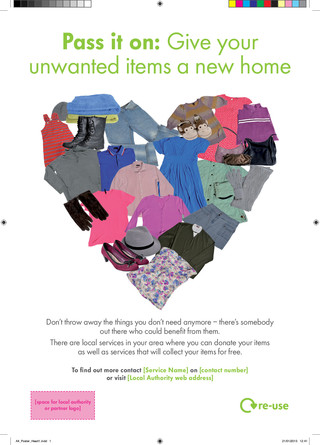 Download 'A4 Poster - Textiles & Clothing heart'
Select a file type to download.
By downloading resources you are agreeing to use them according to our terms and conditions.
Close
Save for later
Save files in your scrapbook to download or share later. What would you like to add?
Close
Information
Textiles & Clothing 'heart' - A4 Poster; Editable; Designed to encourage the donation and re-use of furniture,electricals and textiles (including clothing),this artwork is available in a number of formats and is editable to include local service information. The creative concepts and messages are based on the findings from research with consumers in England and Scotland. As materials collected by partners vary,there are a suite of 'hearts' available.