Love Your Clothes Campaign Case Study & Action Plan: Social media campaign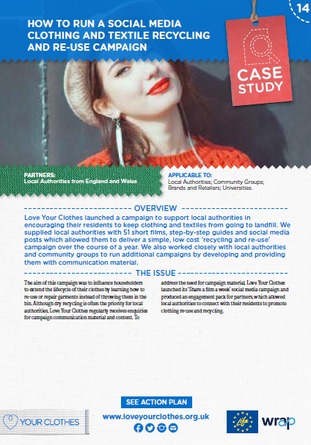 Download 'Love Your Clothes Campaign Case Study & Action Plan: Social media campaign'
Select a file type to download.
By downloading resources you are agreeing to use them according to our terms and conditions.
Close
Save for later
Save files in your scrapbook to download or share later. What would you like to add?
Close
Information
Love Your Clothes launched a campaign to support local authorities in encouraging their residents to keep clothing and textiles from going to landfill. We supplied local authorities with 51 short films, step-by-step guides and social media posts which allowed them to deliver a simple, low cost 'recycling and re-use' campaign over the course of a year. Includes an action plan to help replicate the activity.