Love Your Clothes Campaign Case Study & Action Plan: Charity Fashion Live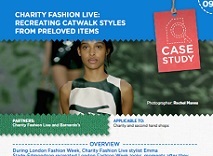 Download 'Love Your Clothes Campaign Case Study & Action Plan: Charity Fashion Live'
Select a file type to download.
By downloading resources you are agreeing to use them according to our terms and conditions.
Close
Save for later
Save files in your scrapbook to download or share later. What would you like to add?
Close
Information
During London Fashion Week, Charity Fashion Live stylist Emma Slade-Edmondson recreated London Fashion Week looks, moments after they emerged on the catwalk, using only clothing found in one charity shop. The project aimed to raise awareness of the issue of textiles waste and promote the benefits of shopping second hand to young people.