Love Your Clothes Campaign Case Study & Action Plan: Engaging young people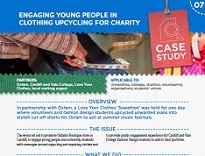 Download 'Love Your Clothes Campaign Case Study & Action Plan: Engaging young people'
Select a file type to download.
By downloading resources you are agreeing to use them according to our terms and conditions.
Close
Save for later
Save files in your scrapbook to download or share later. What would you like to add?
Close
Information
In partnership with a charity, a Love Your Clothes 'Sewathon' was held for one day where volunteers and fashion design students upcycled unwanted jeans into stylish cut-off shorts to be sold at summer music festivals. Includes an action plan to help replicate the activity.