Love Your Clothes Campaign Case Study & Action Plan: Lost socks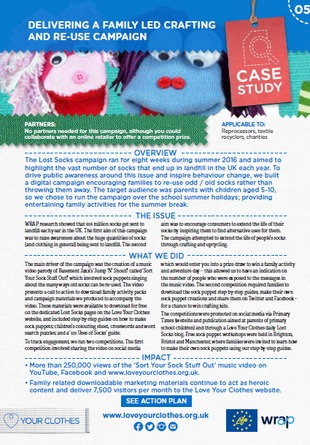 Download 'Love Your Clothes Campaign Case Study & Action Plan: Lost socks'
Select a file type to download.
By downloading resources you are agreeing to use them according to our terms and conditions.
Close
Save for later
Save files in your scrapbook to download or share later. What would you like to add?
Close
Information
The Lost Socks campaign aimed to highlight the vast number of socks that end up in landfill each year. To drive public awareness around this issue and inspire behaviour change, we built a digital campaign encouraging families to re-use odd / old socks rather than throwing them away. The target audience was parents with children aged 5-10, so we chose to run the campaign over the school summer holidays; providing entertaining family activities for the summer break. Includes an action plan to help replicate the activity.