Love Your Clothes Campaign Case Study & Action Plan: City-wide clothing engagement campaign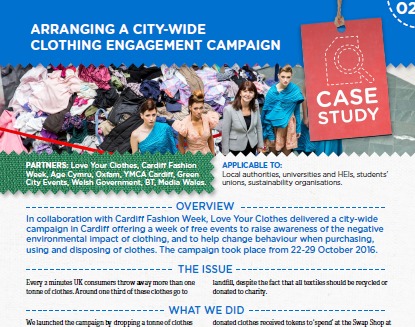 Download 'Love Your Clothes Campaign Case Study & Action Plan: City-wide clothing engagement campaign'
Select a file type to download.
By downloading resources you are agreeing to use them according to our terms and conditions.
Close
Save for later
Save files in your scrapbook to download or share later. What would you like to add?
Close
Information
In collaboration with Cardiff Fashion Week, Love Your Clothes delivered a city-wide campaign in Cardiff offering a week of free events to raise awareness of the negative environmental impact of clothing, and to help change behaviour when purchasing, using and disposing of clothes. Includes an action plan to help replicate the activity.