Give A Cluck DAY 7 JPEG - Freezer Hack/ Labelwch! (English/ Welsh)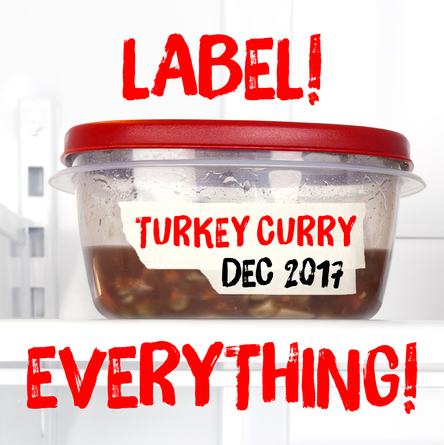 Download 'Give A Cluck DAY 7 JPEG - Freezer Hack/ Labelwch! (English/ Welsh)'
Select a file type to download.
By downloading resources you are agreeing to use them according to our terms and conditions.
Close
Save for later
Save files in your scrapbook to download or share later. What would you like to add?
Close
Information
[static image] Get some labels ready to add the freze date and what's inside to your containers (maybe put your name on it too so no-one nabs your Christmas turkey curry you'll want in March). [static image] Paratowch labeli yn barod i ychwanegu'r dyddiad rhewi a nodi'r hyn sydd yn y cynhwysydd (gallech roi eich enw arno hefyd, fel na fydd rhywun arall yn bachu'r cyri twrci y byddwch awydd ei fwyta ym mis Mawrth).