Give A Cluck DAY 10 MP4 - National defrost your turkey day/Diwrnod cenedlaethol dadrewi'r twrci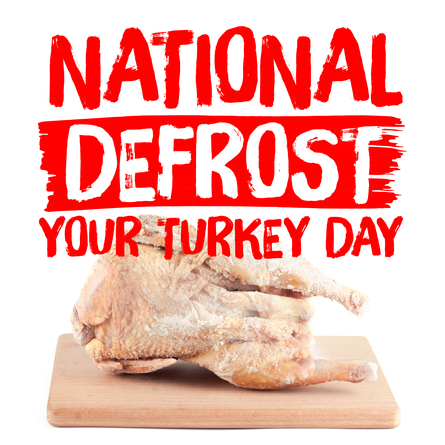 Download 'Give A Cluck DAY 10 MP4 - National defrost your turkey day/Diwrnod cenedlaethol dadrewi'r twrci'
Select a file type to download.
By downloading resources you are agreeing to use them according to our terms and conditions.
video

National defrost your turkey day - MP4

35.1MB

video

Diwrnod cenedlaethol dadrewi'r twrci - MP4

36.7MB
Close
Save for later
Save files in your scrapbook to download or share later. What would you like to add?
Close
Information
INSTAGRAM [video] Happy National Defrost your Turkey Day! Follow our simple guide for a perfectly defrosted turkey. https://www.instagram.com/lfhw_uk/ #NationalDefrostYourTurkeyDay #GiveACluck #Turkey #Christmas #NationalDefrostYourTurkeyDay TWITTER [video] Happy National Defrost your Turkey Day! Follow our simple guide for a perfectly defrosted turkey. https://twitter.com/LFHW_UK #GiveACluck #NationalDefrostYourTurkeyDay FACEBOOK [video] Happy National Defrost your Turkey Day! Follow our simple guide for a perfectly defrosted turkey. https://www.facebook.com/LoveFoodHateWasteCommunity INSTAGRAM [video] Happy National Defrost your Turkey Day! Follow our simple guide for a perfectly defrosted turkey. http://bit.ly/2BgiirD #NationalDefrostYourTurkeyDay #GiveACluck #Turkey #Christmas #NationalDefrostYourTurkeyDay #RhoGlwc #Twrci #Nadolig TWITTER [video] Diwrnod Cenedlaethol Dadrewi'r Twrci hapus i chi! Dilynwch ein canllaw syml i ddadrewi'r twrci yn berffaith. http://bit.ly/2BgiirD #RhoGlwc #NationalDefrostYourTurkeyDay FACEBOOK [video] Diwrnod Cenedlaethol Dadrewi'r Twrci hapus i chi! Dilynwch ein canllaw syml i ddadrewi'r twrci yn berffaith. http://bit.ly/2BgiirD