On-pack Recycling Label - bilingual section for use on A5 Leaflet with Recycle for [area] logo (Welsh-English)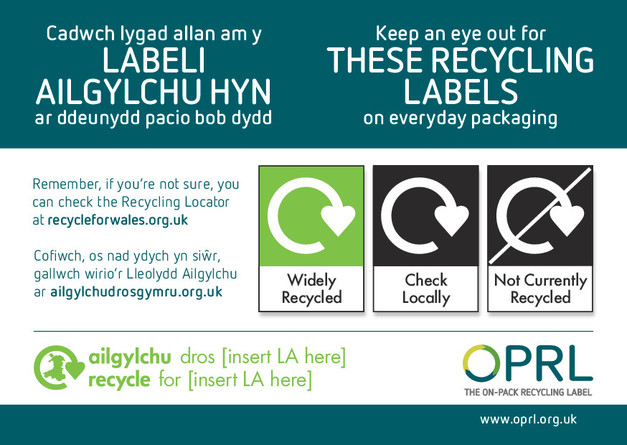 Download 'On-pack Recycling Label - bilingual section for use on A5 Leaflet with Recycle for [area] logo (Welsh-English)'
Select a file type to download.
By downloading resources you are agreeing to use them according to our terms and conditions.
Close
Save for later
Save files in your scrapbook to download or share later. What would you like to add?
Close
Information
New template posters are now available to help you to promote The On-Pack Recycling Label locally. These posters have been designed (following consumer-testing) to help residents understand what the basic on-pack recycling labels mean to them locally, so that they can use the labels to inform them on what can and cannot be recycled. You can tailor the posters so that they reflect your local service and you can highlight materials which you would specifically like to focus on. We have also designed a section which you could include on the back on an A5 leaflet. Again, this explains the OPRL labels very simply with the aim of helping residents to understand how they can use them to help understand what they can and can't recycle locally. For those partners who don't collect glass, we do have an alternative version of the poster which you could use. Please email: partnerenquiries@wrap.org.uk for further information on this version.